Street Rods - Classic Cars - Hot Rods
Interiors & Upholstery
Take a look at our portfolio, you will see the diversity of design as well as the craftsmanship necessary to compliment award winning automobiles.
We pride ourselves in listening to the customers design requirements as well as the physical comfort needs. From mild to nostalgic, wild or hi-tech, we offer various design choices that will certainly fit your plan to build a personalized cruiser that is unique.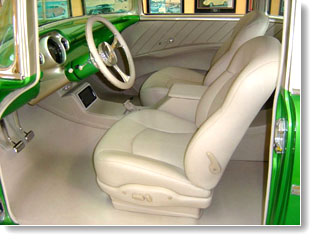 We use only the finest materials and components in our hot rod interior designs. Leathers are stretched over fiberglass, carbon fiber, wood or steel in order to assure the very best fit for your hot rod interior restoration project.
We invite you to give us a call concerning your new project and discuss your specific design requirements.